Who says this is not a great industry?
Print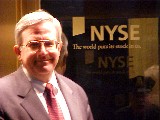 Last week, the PM40 crossed the 4,000 mark to 4,043 for the first time. The PM40 is normalized to a value of 1,000 in Jan 2002. Back when we started the PM40 in 2004, we thought it appropriate to normalize it to 1,000 a couple of years earlier. In the early years, it climbed to 1,878 (July 2007) but then plunged to about 400 a brief year and a half later during the financial crisis of 2008 - 2009. The PM40 is calculated as a price-weighted average. By comparison, the S & P 500 was 1,575.50 in January 2002, plunged to 854.91 in February 2009 and is now at 2,575.26. From Jan 2002 until now the PM40 has risen 304%; from the low in 2009 it has risen 911%. The S & P 500, from Jan 2002 until now has risen 63% while from its low during the crisis until now has risen 200%. I won't touch individual comparisons to Amazon or Apple, but if you look at Alphabet, Inc. Class A (Google) from its low during the crisis (131.35) to its close last Friday (1,049.99), its recovery has only been 699%, compared to the aforementioned recovery of 911% for the PM 40. Who says this is not a great industry? You can check out the PM40 here twice per month (the first and third Tuesdays) or you can get a daily update at 11:30 pm US Eastern Time (or later) any day the market has been open at www.ipulpradio.com.
___
No one at Paperitalo Publications is making personal investment decisions based upon the PM40, although they may have minor holdings in some PM40 stocks in mutual funds whose investment decisions are controlled by others.

Jim Thompson is CEO of Paperitalo Publications.

****

---