Day and Night
Print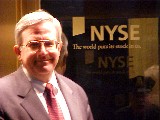 After nearly 24 years, the Internet continues to have a huge impact on the pulp and paper industry, perhaps more so here than in any other industry (except IT itself).

Having the privilege of talking to people who work in all grades as well as reading the news in Paperitalo Publications, the new standard of use for cellulose products continues unabated. I have been saying it for years: if cellulose is used for its physical properties, such uses are thriving. If cellulose is used to convey thoughts or ideas, it is dead or dying.

One family of grades unaffected by all of this is tissue. Tissue grades definitely exist for their physical properties, but their growth is completely predictable based on per capita population consumption--the Internet is not a factor.

Every month it seems like, even after all these years, we hear of printing and writing grades curtailing production or simply going out of business.

Likewise, and with almost universally the opposite news, we hear of expansions in the packaging grades, especially containerboard. This is driven by online shopping. Just a couple of weeks ago, my wife was able to tour the UPS facility in Louisville, Kentucky during peak sorting hours (roughly 11:30 pm until 1:00 am). She reported that, by her guestimate, 1/3 of the packages carried the Amazon brand. This facility sorts 1.5 million packages every night.

This information, which has not changed in 24 years, should provide the career seeker and the investor with guidance as to where to focus on the future.

Jim Thompson is CEO and Executive Editor of Paperitalo Publications. He can be reached by email at jthompson@taii.com.

****

---